By Vincent Cassidy Oct. 2005 with contributions by Lawrence Cassidy
1. Lancaster City Football Club 1st June 1978
The first gig. It was an Anti-Nazi League benefit supporting aged hippies China Street Our fee was £10.00.
2. Imperial Ballroom, Blackpool June and July 1979
Our first Imperial gig, playing for the Blackpool Sixth Form College Dance. The second Imperial concert was a Year of the Child benefit and we asked Joy Division, Orchestral Manoeuvres in the Dark, Glass Torpedoes and Final Solution to play. After the gig Ian Curtis and Rob Gretton asked us to go to Cargo Studios to record our first single. It was to be produced by them as a Fractured Production.
3. Old Library, Poulton le Fylde Summer 1978
This venue was hired by us several times from the Council. It was about the size of your average front room. We played here with good local bands like Zyklon B, Final Solution and the Pose (Tunnel Vision). The last time we were there skinhead skirmishers turned up and put the windows through. The Council banned us after that.
4. Russell Club, Manchester Spring 1979
Great big cavernous bus drivers social club, the booming sound suited us though. Slightly marred when some poor sod had a bottle smashed over his head by the 'door staff'.
5. Capital Theatre, Aberdeen , ABC Edinburgh 1980
Supporting Talking Heads in the granite city. Drove 340 miles from Blackpool to Aberdeen in a transit, played then slept on the college room floor of a kind fan. Eddie Smith, our roadie, kept pestering Tina Weymouth, the Heads bassist for cough medicine. She said "I love your English bands names they're so scientific". Singer David Byrne didn't utter a single word the whole time except when he was told the tickets for the Edinburgh show had sold well, "About time" he grumbled. He also had a special padded white suit to wear on stage, very wide at the shoulders. It gave the audience the impression that he had a large body and a small head perched on top of it. Psycho Killer qu'est-ce que c'est ?. It was Eddie who made suggestions about what name we should use. Because where we rehearsed was next to a small tidal river called Skippool Creek he said "What about the Skippool Creeps". We said no and used Section 25 instead because he and Paul our guitarist had recently been sectioned, it seemed more appropriate.
6. Derby Hall, Bury
Interesting one this. I can remember drumming away and wondering what the stuff was that was landing on my head. I realised it was glass from the disintegrating light fitting above me. S25 and JD's did a sort of combined gig because Ian Curtis was poorly. Bad reaction by the crowd who then literally laid siege to us in the dressing room.
7. Civic Centre, Brighton 1981
This one supporting New Order. Gig was fine, but after this bloke who was the partner of Radio One DJ Anne Nightingale turned up back stage. His name was Binky Baker. He told us it was his job to introduce The Who at their concerts, titters all round. People started to take the piss a bit and then somebody said "Roger Daltry is shit". Christ it really kicked off then, and he had to be dragged off by an embarrassed Nightingale, while he was shouting "Right I'll phone Roger and tell him he's shit should I?"
8. Co-op Social Club, Blackpool July 1979
When we played here the flat capped concert secretary refused to pay us the agreed £10 appearance fee. He said "Do you call that music?". I was quite chuffed by that.
9. Hall of Culture, Helsinki, Finland 1980
Supporting N.O. We all flew to this gig except for Paul our guitarist. He had set off overland 1 week earlier because he said he had a fear of flying. He ended up going via Lapland and the Arctic Circle, probably by dog sled. Anyway it completely blew our budget and he left the band soon after.
10. SO 36 West Berlin
We were touring Europe with ACR when we detoured about 500 miles to do this one. The gig was named after its postcode and had about as much character. A cold draughty shithole I thought. The concert went all right but the best bit was looking round Berlin pre wall being knocked down. There was a huge concrete tower in the suburbs with the 1st Russian T34 tank to enter Berlin perched on the top. I thought it was pretty good but why did they paint it pink?
11. Rainbow, London
Supporting The Stranglers minus Hugh Cornwell. It was supposed to be a benefit for him because he was in prison on drugs (heroin) charges. I never could figure out the logic in that. I think we just did it because it was a big gig. Hugh's girlfriend starlet Hazel O'Connor of 'Breaking Glass' fame came on stage and made an impassioned speech about the injustice of it all.
12. Community Centre, Bispham, Blackpool 1979
We played this one with a full on tartan wearing mohicaned punk support band who announced they were "The Fuckabouts coz we fuckabout", they did. Punks an attitude not a dress code surely?. Now punk seems to be confined musically, a bit like really fast trad jazz.
13. Asylum, Detroit 1 - 26 - 1985
Christ what a heavy gig. The town was bereft of any redeeming features. I asked a local why homeless men were lying flat down in the middle of the road. "They're vent men" he said "they do that to keep warm from the plumes of steam coming out of the vents in the road"". How naive I was.
14. The Meat Rack, Washington
This night the 'Tufty Club' were in. Not real skinheads you know, just Americans dressing up. I had been intimidated by the real thing at a gig at the Bedford Boys Club the year previously so I knew the difference. This lot just needed a firm hand from Larry so it was OK. We had to reverse our van down a narrow back alley to get the equipment out to the backstage of the club. I was in the alley doing the right hand down bit etc. for our driver, when I noticed a cardboard box in the way. I wasn't bothered about moving it but at the last second I decided to pull it out of the way. Christ when I did the man who was in the box told me it was his home and then screamed "Go fuck yourself". I didn't attempt to do as he instructed, but his alienated anger left a lasting impression of Reagans America.
15. Electric Ballroom, London
Here we had the joyless task of supporting Toyah Wilcox, that was before she had her hit. We were allowed just about an 8 minute mini sound check. She would only use her mic even to talk through if there was loads of echo put on by her manager / boyfriend / sound mixer. Bernard Sumner used to fan his fingers out over his forehead to mimic her fringe and do a good impression of her lisping her way through "It's a Mystery"".
- -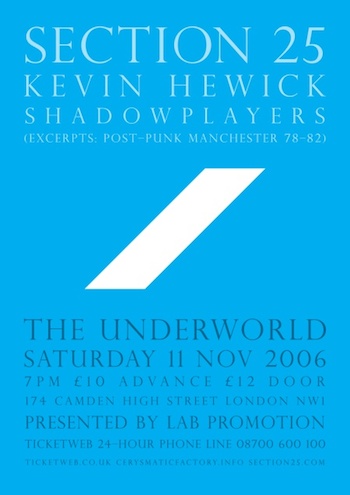 16. Sheffield Poly 1981
The Human League were also playing in Sheffield that night in a different venue but there was still a good crowd. This gig I was proudly told had the longest S.U. bar in the UK. After the sound check we all went to Cabaret Voltaire's studio "Western Works" for a while. They were seriously equipped and made us feel very welcome. It was at this show that the revenge on the rider swilling arsehole trick was initiated:-
Take an empty tumbler and piss in it to about ¾ full Add a smear of Pernod (or other string smelling liquor) round the top of the tumbler Leave temptingly in an obvious position for assembled liggers. Worked really well on NME scribes.
17. Union of the University of London
Playing with Joy Division, Killing Joke and the Smirks. Killing Joke who put a lot of effort into being intimidating were taking ages with their sound check. Rob Gretton told me to place my drum kit at the foot of the stage and wait with it. This was to give them the message to hurry up and fuck off, it worked. He had good ideas like that Rob.
18. Plan K Brussels
This was part of the same European tour we did with Crispy Ambulance. Paul our guitarist had left us after his Lapland adventures and we had replaced him with backing tapes and a young roadie called John on extra percussion. After a surfeit of psychedelics John flipped out. He eventually had to be flown home from Brussels to Manchester. I can remember at the airport it was a real struggle because he thought he was being sent to Rekyavik. Later that night in a café I was trying to eat a raw horse sandwich. While I ate I looked out of the window to see our erstwhile tour manager and good bloke Wally Van Middendrop (Minny Pops) falling out of the phone box he was using (he thought the side had glass in). The ripped off receiver he was trying to use still in his hand. With apologies to Wally this seemed like a fitting end to a truly strange day.
19. Princess Cinema, The Venue, Blackpool
We promoted this concert ourselves. Originally we had tried to hire the old Tivoli Cinema at the back of Yates Wine Lodge. It had definitely seen better days and got by on showing soft porn. New Order were playing as well so Rob Gretton came with Larry and I to see the Tivoli manager. At the meeting the manager flatly refused to have anything to do with rock music. He reasoned that some years previously in ( about 18) 1962 he had been assistant manager at the Winter Gardens when the Rolling Stones played and some chairs were broken. He couldn't risk that again. We eventually secured a dissused cinema called The Princess. It is now a buddhist themed night club called Sanuk, what the fuck is that? Do you get asked if you would like to pay, or if you like you can come in for free, I don't think so? The actual concert was a typical Blackpool scenario, the venue owner saw we had queues round the block and immediately demanded double the hire fee. Hooky's response was. "Fuck him lets pull the gig". Larry managed to iron out a compromise, and it all went on as planned.
20. Maxwells, Hoboken, USA 1982
Maxwells was one of the dates on our first US tour. Ruth Polsky our tour manager looked after us well and would cook us a meal at her flat ,she was like a big sister. At Maxwells she told us Sinatra had been born in Hoboken, there was a nice view of New York by night. Ruth was killed in a road accident some years later waiting outside a New York night club. She was run over by a drunken taxi driver. Ruth Polsky was a lovely girl.
21. Opera Night, Paris 1985
Our only French appearance. A woman in the audience was actually walking her dog while we played. How French. Suggested chat up line being "Is that your dog?" How English.
22. Clarendon Ballroom, London
Headlined this gig with 'support' from Stockholm Monsters and Happy Mondays who didn't turn up. The gig went off OK but the gear van was sabotaged while we were playing. Some bastard had loosened the prop shaft mountings just enough so we could drive out of London but break down on the motorway in the middle of nowhere, i.e. Hilton Park Services for 12 hours. Never could figure out if the saboteurs were manc or cockney.
23. New Osbourne Club, Manchester February 1980
This concert was reviewed by Mick Middles for Sounds. Very informative that review, he called us Section 27. It was a change from the tit at the NME who called us Selection 25 the year previously, made us sound like a box of chocolates.
24. Bochum, Germany
This was the only German concert we played on a Factory European tour with the Crispies. When I asked Larry what he remembered of it he said he thought the backstage showering facilities were particularly smart. Our sound engineer at the time was Jon Hurst. He carried his personals around in a trendy leather saddlebag that he was particularly fond of. His little island of sanity. When we left the gig to go to our hotel we used two vans. The gear van in front had Jons bag in it. I remember as we were driving down the autobahn the look on his face as the back doors slowly swung open. Jon looked on in stoned horror as his bag fell out and then we ran over it. We did laugh.
25. Utopia, Den Haag, Holland 27th June 1980
On the Dutch leg of a European Factory Tour, S25, A Certain Ratio and The Durutti Column played in a vast hall ironically called Utopia next to the docks. It was an ex warehouse run by a commune and had been the venue for a Captain Beefheart concert the night before. I remember the concert well and the acts being well received. Unusually Tony H Wilson was in attendence and joined the bands after the show. We were all relaxing round a long table on a mezzanine floor over looking the main auditorium, the mood was relaxed and jovial. Tony was holding court at the centre of the table, a la last supper and explaing the finer points of things like situationism and the labels strategies. "Certain" musicians brought the conversation round to contracts or more specifically in Factorys case the lack of them. Tony said we all had something far than valuable than contracts we had "Freedom, The freedom to fuck off". My brother and I were not convinced and certainly would have preferred the slavery of up to date accounts and regular royalty cheques.Tony seemed to think this kind of thing a piffling distraction from the main purpose of subverting the music biz.